Somerset's new council at risk of running out of money within years, warns chief financial officer
By Daniel Mumby - Local Democracy Reporter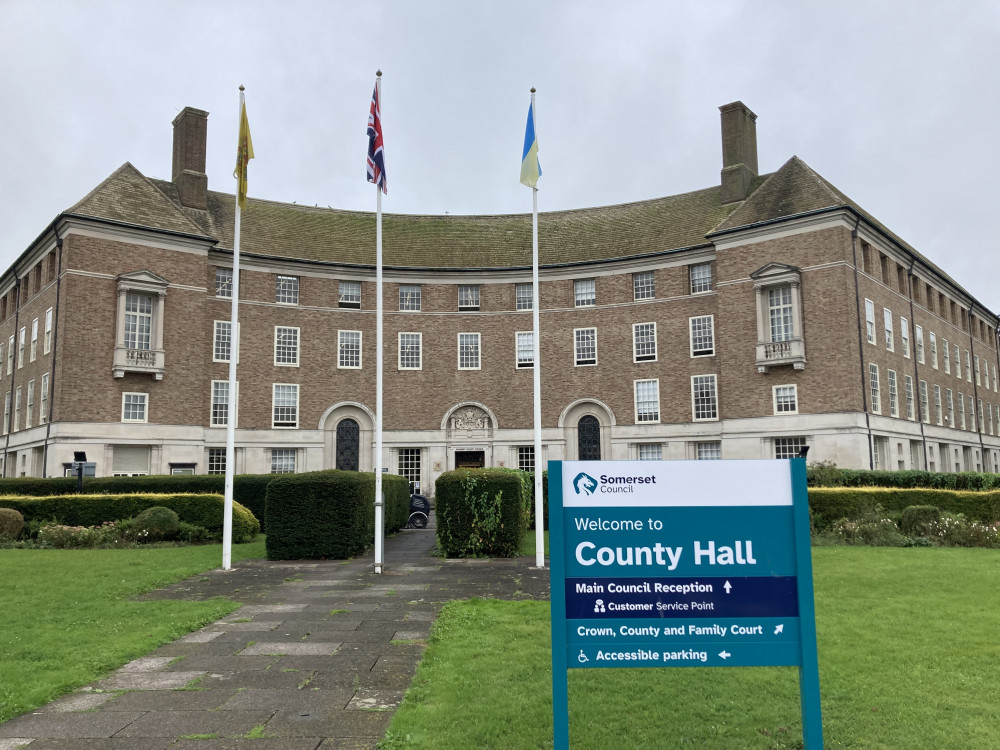 Somerset Council\'s Headquarters At County Hall On The Crescent In Taunton. CREDIT: Daniel Mumby.
Somerset's new unitary authority could 'hit the iceberg' and run out of money in the next few years if it does not either rein in spending or receive additional money from central government.
Somerset Council was created on April 1, with Somerset County Council and the four district councils all being abolished, with their assets and finances all moving across automatically.
The council set its first budget in February 2023, balancing its books through the maximum possible council tax rise and committing to delivering savings over the following 12 months.
But as early as July, the council warned it would have to find significant further savings to balance its books as demand for children's services and adult social care continue to escalate.
The council's chief financial officer has said the council is "not hitting the iceberg" tomorrow – but it could run out of money if current trends continue based on rising demand for services.
This comes as Birmingham City Council declared effective bankruptcy, issuing a Section 114 notice and reducing all outgoings to only essential spending.
The council's executive committee met in Taunton on Wednesday morning (September 6), days after papers were published describing its financial situation as "stark and challenging".
Within the current year, the council is forecasting an overspend of £26.1 m – , with a "budget gap of around £100m" being forecast over the next three financial years.
The majority of this projected overspend derives from children's services and adult services, which make up more than £21m of additional spending between them, despite significant increases in budgets in the two previous years.
Deputy leader Liz Leyshon said the last year of Somerset County Council's existence had ended with "a significant draw on reserves", to the tune of £18.7m – and that further draws on reserves may be needed to balance the books in the current financial year.
She said the entire capital programme of the council would need to be "rationalised" to prevent any rise in costs, and there would be "considerable amounts of work" undertaken between now and Christmas to prevent further overspending.
She said: "If we are to understand our situation and deal with it, we need to recognise as early as possible where we are.
"We will have some draw on reserves this year, but it needs to be as little as possible. We will, of course, be looking to central government, as a number of councils have already issued Section 114 notices – including Birmingham.
"We have to hope that government listens. I believe in the next few months as we move towards Christmas and budget setting, we will see other upper tiers authorities acknowledging that they will not make their projected savings and that will push them also to further use of reserves."
Jason Vaughan, the council's chief financial officer, said he would keep councillors and the public informed about the scale of the problem facing the local authority.
He said: "One of the common issues when you look at Section 114 notices in councils is that some councillors say: 'I didn't know this was coming.' We will not be in that position. I've clearly set out some early warning systems – I can spot the iceberg several years out and see if we can take enough action to avoid hitting it.
"We're not hitting the iceberg tomorrow, but we can see that if we carry on [as we are], we will do.
"Our expenditure is going up quicker than our income – it's a very simple equation. The national funding that we get doesn't match the expenditure and the responsibilities that we have."
The main reserves of the council will rise from £26.8m to £49.8m through the reallocation of other earmarked reserves, to ensure that any additional in-year costs for services can be met while keeping external borrowing down.
Mr Vaughan said: "This is quite a hot topic at the moment, following the announcement of various council having a lack of reserves and running out of money. It is a key sign of corporate health for an authority.
"Given our profile of risk, the healthy range of reserves that the full council approved in February was between £30m and £50m."
The council identified 17 actions in July which it would undertake to control spending and deliver savings over the next three years, including a review of budgets, transformation of adult social care and a rethink of its commercial investments (which are currently providing no net income for services).
Councillor Dean Ruddle, portfolio holder for adult social care, said that his department would deliver £10m in savings over the next two years.
He said: "We live in unprecedented times – high interest rates and high inflation, which could not have been predicted when we set our budget.
"I can assure you that we are constantly monitoring and reviewing our budget to see how we'll keep spending as low as possible, and make efficiencies wherever possible.
"Our spending in Somerset is 14 per cent below the national average."
Councillor Tessa Munt, portfolio holder for children, families and education, added: "External placements is where the most expense is in our department – the costs are escalating on a massive scale. On the whole, our less volatile and less complex areas within the service are likely to be spending in line with the budget."
Jonathan Carr-West, chief executive of the Local Government Information Unit (LGIU) said that Birmingham's bankruptcy announcement should lead to an urgent rethink of how local government is funded in light of demand for services.
He said: "Questions will no doubt be asked about decision making and governance in Birmingham. But questions should also be asked about an inconsistent, fragmented and short-term funding system that is driving dozens of councils across the country to financial ruin. We have been supporting councils for 40 years, but our members tell us that they are experiencing the most acute crisis they can remember.
"Not only has the amount of funding been slashed by government but councils have been made to rely on short term, piecemeal funding that inhibits effective financial management.
"Central government has kept councils living from hand to mouth and from year to year for far too long. Birmingham is the biggest council to fail so far, but unless something changes, it won't be the last."
Further discussions of Somerset Council's financial issues will be held by its adults and health scrutiny committee on Tuesday (September 12) and its children and families scrutiny committee on Wednesday (September 13).
A further report on the council's finances will come before the next full council on September 27.