New stretches of Strawberry Line active travel route open in Shepton
By Daniel Mumby - Local Democracy Reporter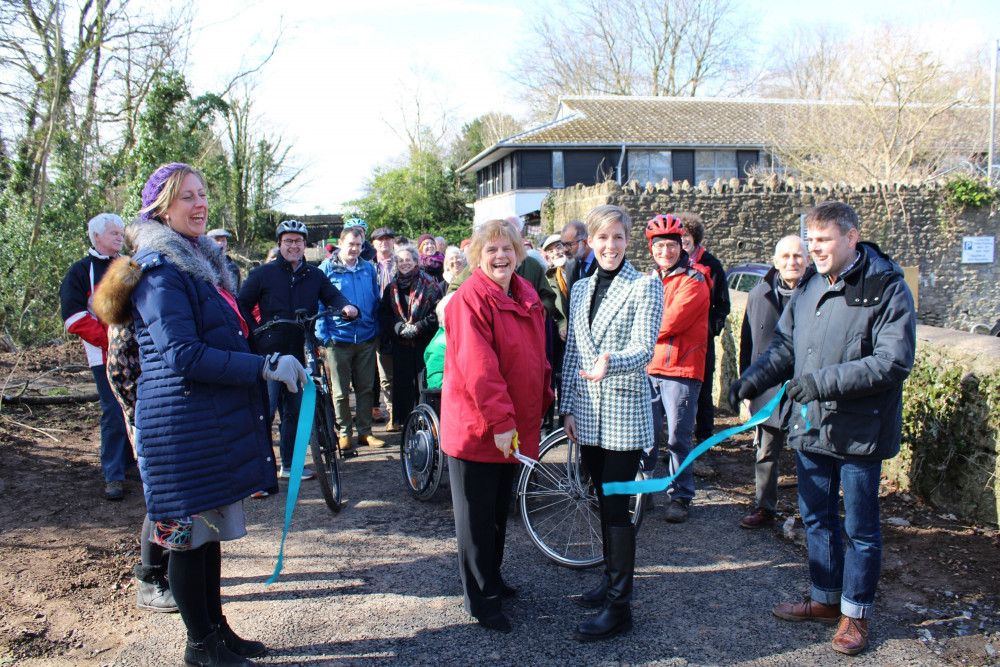 Mendip District Council Leader Ros Wyke Opens The New Stretch Of The Strawberry Line In Shepton Mallet Mendip District Council
Two sides of Shepton Mallet are now better connected following the completion of a new active travel route on public land.
Mendip District Council has been working since June 2020 to reinstate and upgrade 14 "missing links" across the district, encouraging people across the district to walk or cycle to work or school, thereby reducing congestion and pollution.
Much of the work has revolved around extending the Strawberry Line, which will eventually run uninterrupted for 30 miles between Clevedon and Evercreech.
Two new sections of the Strawberry Line have now been opened in Shepton Mallet, connecting residential areas to the town centre and making it easier to explore the local area on foot or by bicycle.
An opening ceremony was held on Friday afternoon (March 10) for the first of these sections, which will connect Collett Park to Station Road via the council's own car park within the Shape campus, off the A371 Cannard's Grave Road.
The new route – which was granted planning permission in December 2021 – runs through the car park nearest the road and under the A371, using the former track bed as a base, before joining existing cycle paths near the town's Tesco superstore.
Council leader Ros Wyke – who has been pushing for better cycle paths in Mendip for two decades – said: "This is an important and significant day for us. We have been campaigning with partners, volunteers, and government at all levels, for many years to get this going.
"Paths are becoming part of our landscape. They provide all sorts of benefits; they create commuter corridors between towns and the city to keep communities connected and make active travel easier and safer by getting people off our dangerous roads.
"Each section built is part of a bigger picture. Collectively, we are aiming to make Somerset a walking, horse-riding and cycling county.
"I would like to thank everyone involved for their contribution to make this happen. This is a pivotal point in our determination to make multi-user paths part of our everyday life."
Hélène Rossiter, National Highways' head of the Historical Railways Estate programme, added: "We're proud to have played a part in the creation of this new active travel route.
"This path offers a safe passage for people crossing the bridge while connecting walkers and cyclists to other active travel routes in Shepton Mallet. We care about our structures, the history they represent, and connections people have with them.
"By preserving and enhancing the unique Cannard's Grave Road bridge, we can maintain it for future generations to enjoy."
In addition to the new route from Collett Park to the town centre, the council has also delivered a new stretch of the Strawberry Line connecting the B3136 West Shepton to Ridge Lane, heading towards Wells.
This stretch received funding from the council's cabinet in August 2022 and a further short section in Westbury-sub-Mendip between Wells and Cheddar, opened in December 2022.
The stretch of the Strawberry Line along the B3136 West Shepton – connecting the existing path at The Sidings to the newly-opened Ridge Lane stretch – will be delivered as part of a planned development of 15 homes on last east of Shepton Mallet AFC's stadium.
A spokesman said: "Proposals for the multi-user path at West Shepton are to be incorporated into the housing site.
"Further site survey work is required to inform the design. Constructive dialogue continues with LiveWest in regard to variations in the contract [to deliver low-cost housing on the site]."
The Strawberry Line is part of the Somerset Circle which, when completed, will form a 76-mile traffic-free circuit linking Bristol, Bath, the Mendip Hills, the Somerset Levels.
The council has also been working on opening up the disused Bath Road viaduct and the Windsor tunnels north of Shepton Mallet, to deliver a new active travel route between the town and Emborough, near Radstock.
While the licences for access and construction have now been granted, a decision on the planning application to implement the route has yet to be made.
Numerous other sections of the Strawberry Line and other active travel routes will continue during the last few weeks of the council's existence before the new unitary Somerset Council takes over.
These include:
A further 1km of path between Shepton Mallet and Pilton
A further 300 metres of path at Dulcote, near Wells
Securing land access from Dulcote to Churchill Batch (near Dinder)
Securing further land access at Easton to allow the Westbury-sub-Mendip path to be extended
Installing 30 bike racks and planning for new paths in Glastonbury, as part of the town deal
A spokesman said: "After vesting day [April 1], Greenways and Cycleroutes will continue to work on land access while Somerset Council agrees new corporate priorities and any budget allocations which would be required to deliver any further infrastructure."
Further into the future, the new unitary council has been awarded more than £410,000 from Active Travel England to train councillors and officers, fund future consultations and enable further design work on selected routes.
Councillor Mike Rigby, portfolio holder for transport and digital, said: "The fund will help to make a real difference to improving active travel provision across Somerset, along with encouraging behaviour change towards a more sustainable way of moving around the county."
Councillor Sarah Dyke, portfolio holder for climate change, added: "Encouraging active travel is pivotal in terms of working towards Somerset's climate emergency strategy and our net zero target for 2030. We all need to get on board and think about how we can get around in a more sustainable way and this funding supports that goal."