Almost half of Avon & Somerset Police officers have less than four years' experience
By Adam Postans, Local Democracy Reporter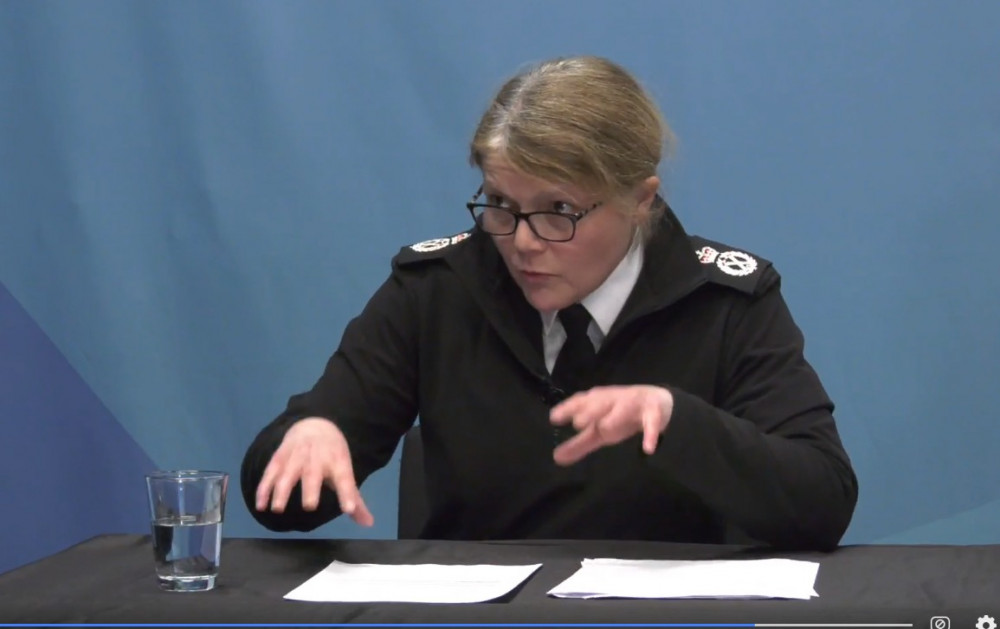 The police chief was answering questions from Police & Crime Commissioner Mark Shelford at the monthly performance and accountability board.
Almost half of the officers in Avon & Somerset Police are fresh-faced recruits with less than four years' experience, it has been revealed.
Chief Constable Sarah Crew said that more than 1,500 of the 3,316 currently in the force had joined since the Government launched its police uplift programme in 2019 to recruit an extra 20,000 bobbies in England and Wales by the end of March 2023 following a decade of cuts.
But she said that while the constabulary had exceeded its target set by the Home Office, she understood why the public were still dissatisfied with the force because it took years to train new officers and then even longer to build up the experience and knowledge required from working on the beat.
The police chief was answering questions from Police & Crime Commissioner Mark Shelford at the monthly performance and accountability board.
Mr Shelford asked: "Each force was given its own target to meet – the target for Avon & Somerset was a total of 3,291 officers.
"We are now only three weeks away from that target date, so can you please assure me that we are on target?"
Chief Constable Crew said: "I can confirm that as of today we have 3,316 officers within the organisation, so that does exceed our target already.
"During the course of the year we successfully applied to the Home Office to fund a further 80 officers on top of our additional target.
"We anticipate that at the end of March we will even exceed that and have 3,385, which is an additional 94 officers on top of our total.
"So that means that since April 2019 we will have recruited over 1,500 new officers into the constabulary in total, 1,000 of them through the Police Constable Degree Apprenticeship (PCDA) scheme and 300 through our degree holder entry programme, largely targeting detectives straight into the organisation.
"That is a tremendous achievement, especially given the challenges at the start with the pandemic."
She said the extra officers meant the force could restore some specialist teams that had been lost or reduced during austerity, such as CID, firearms response, proactive crime-fighting, violence reduction unit, fraud and cyber crime, neighbourhood policing, rural officers and detectives investigating sexual offences, child sexual exploitation and child abuse.
"We are seeing some positive results from that," the chief constable said.
"We do need to keep this under review as financial pressures, demands and public expectations change, but we hope to keep to this intent over the next five years."
Mr Shelford said: "It's very positive but my postbag doesn't reflect that from the public's concerns and they haven't yet seen that improvement in services.
"Why do you think that is and when do you think they will start to see improvement?"
Chief Constable Crew said at the meeting on Thursday, March 9: "Building and in some cases rebuilding some of those capabilities does take time.
"The PCDA programme is three years, so starting from attracting people and recruiting them in 2019, bringing them into the organisation and then training them, it does have a lead-in time.
"The degree holder entry programme is two years, so there are the same challenges. We are just starting now to see our 2019 and 2020 PCDA cohorts graduating.
"We're just seeing our 2021 direct entry detectives graduating.
"Over the course of the next two years, 14 to 16 cohorts will come through, so the bulk of those 1,500 officers we've recruited are not going to be fully where they need to be until three years from now.
"We are also seeing not just new people coming in but a significant shift in the experience levels. 1,500 new officers of a total of just over 3,000 is about 45 per cent of the workforce, so we do need to rebuild capability as well as capacity. That takes time.
"Right now we have the highest numbers ever of officers in training at university, we have the highest numbers of officers being tutored and we have the highest numbers ever working towards accreditation. that bodes for a really positive future, but I can understand why the public aren't feeling it right now.
"Those CID that we're investing in, we won't hit our target numbers and accreditation until early 2025, so that gives a sense of timescales.
"We are probably at our peak growing pains right now, there will be another smaller peak at the beginning of next year, but from then we will start to see building and building and strengthening and strengthening and improved performance for the public as well."