Up Close: Fiona Campbell, artist in residence at Create@#8, Shepton Mallet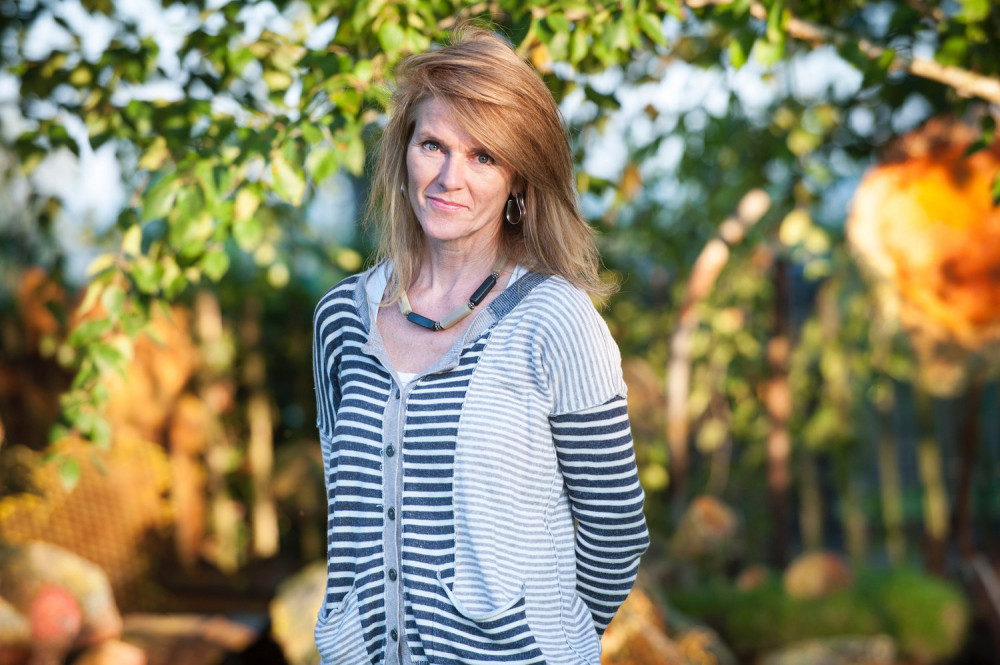 Artist Fiona Campbell has been working in a solo artist residency at Create@#8 in Town Street.
Her residency began on 20 February and continues until 10 March. The space is open to visitors on Fridays and other days by appointment. For a week from 11-19 March her work will be showcased in a solo exhibition.
At the Opening Event on Saturday 11 March, 2-4pm, visitors will see the resulting installation with a soundscape created in response to Fiona's work by Ushara Dilrukshan. Fiona will show a range of suspended, wall-mounted and freestanding works in the empty shop space, including a few pieces from her Life in the Undergrowth project.
Linked to her exhibition, Fiona will be running an Eco Sculpture Workshop on Saturday, 18 March, 2-4pm, at Create@#8. Booking for the workshop is via eventbrite.
Two of Fiona's works created this year will be exhibited in Wander_Land, a group show at Tremenheere Sculpture Gardens and Gallery, during the summer. Wander_Land features new sculptures from the South West about landscape and walking, by members of the Royal Society of Sculptors.
Fiona Campbell is creates sculptural installations. Sustainability is a constant theme in her practice; wherever possible she uses reclaimed, discarded and found materials. She has created site-responsive work for interesting public spaces, reaching the wider public who may not have engaged with contemporary art before.
She is currently developing new work as part of her Arts Council England 'Developing Your Creative Practice Award'. The award supported her recent research trip to Kenya (Fiona's place of birth and upbringing), where she re-connected with her roots and the Kenyan contemporary art scene.
'My approach is a form of suturing, slow art, artivism. This relates to concerns about climate breakdown, human exploitation of nature and over-consumption, which has led to catastrophic mass animal/plant extinctions. Labour-intensive, the binding, weaving, hand-stitching and re-appropriation of materials considers value, care and repair, making do, our relationship with matter, nature, and ourselves.
"I've been developing work related to our natural world. Above and Below is a response to the entanglements and cycles of life that make up earth's strata. Flags of the Forest is inspired by woodlands. The flags celebrate bio-diversity, hopeful of nature being more cared for, and thriving. These involve a combination of sculptural lines and fields of colour in space - hand-stitched patchworks of semi-translucent textiles and plastic remnants. Some I've botanically dyed, eco-printed or embedded with found objects collected on walks. She says that woods and forests provide vital ecosystems - crucial to our survival."
She says she's been enjoying her residency in Shepton Mallet and was proud to have seen her sculptures play a part in the town's Snowdrop Festival.
"It was lovely to see people engaging with them as we put them up outside the Baptist Church. One of Shepton Mallet's annual highlights, the festival events had a massive attendance through the week. "
Event: Fiona Campbell: residency/exhibition
Date: 11-19 March 2023
Opening Event: Saturday 11 March, 2-4pm
Times: 11-4pm daily
Venue: Create@#8, 8 Town Street, Shepton Mallet BA4 5BG
Admission: Free to visit - all welcome!
—————————————————————————————————————————————————————————-
Event: Eco Sculpture Workshop
Date: Saturday, 18 March
Times: 2-4pm
Venue: Create@#8, 8 Town Street, Shepton Mallet BA4 5BG
—————————————————————————————————————————————————————————-
Event: Wander_Land
Date: 1 July - 5 August 2023
Venue: The Gallery, Tremenheere Sculpture Gardens, nr Gulval, Cornwall
Admission: See website for prices
Text: Wander_Land features new sculpture from the South West about landscape and walking, from members of the Royal Society of Sculptors, with assistance from Penzance-based writer Martin Holman.
—————————————————————————————————————————————————————————-