Town turns out for opening of new playground at Collett Park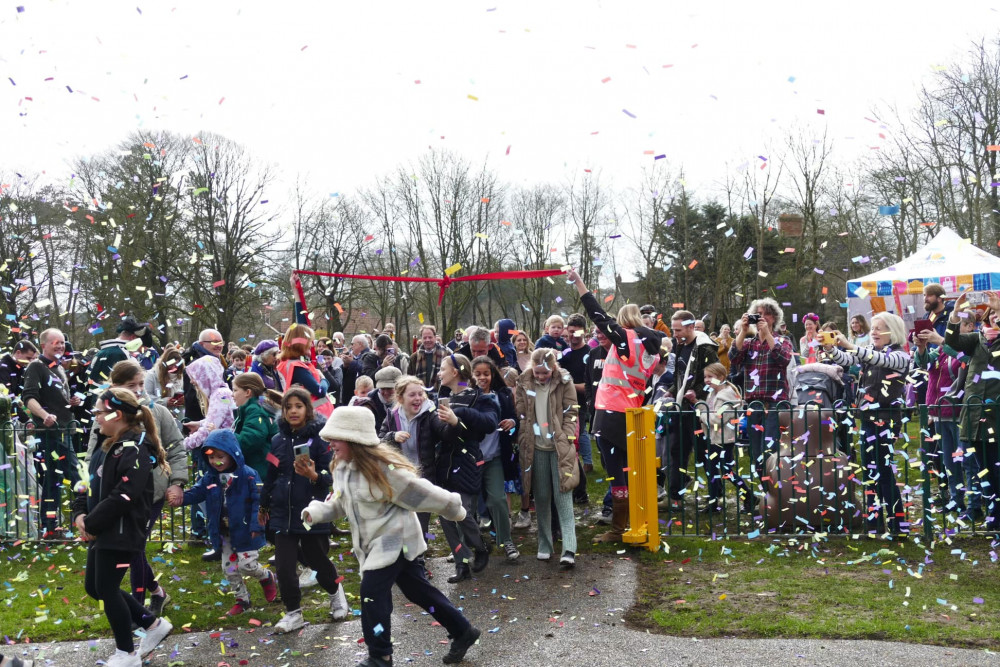 The scramble to be first on the new play equipment at Collett Park in Shepton Mallet is on! Credit: SMTC
The air was filled with colour and laughter in Shepton Mallet this morning as the new playground at Collett Park was officially opened.
Hundreds of town residents - many of them under the age of 13 - had come out to be a part of the moment, all eagerly eyeing up the new play equipment.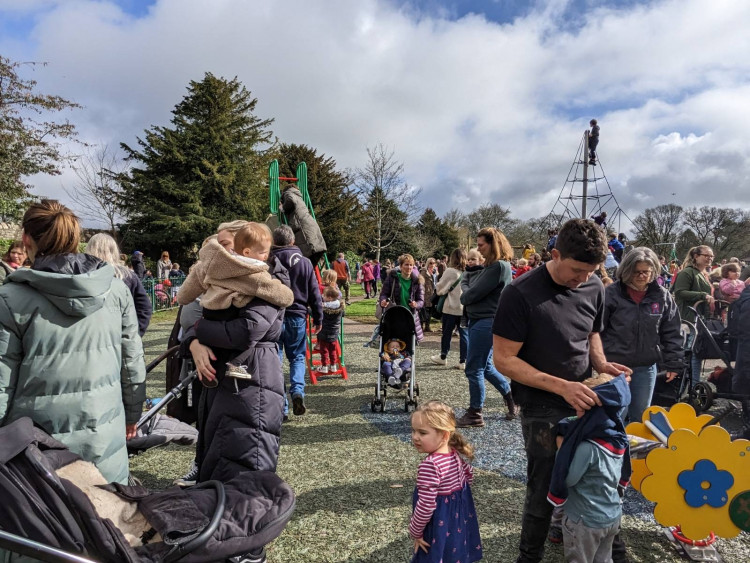 Hundreds of Shepton residents turned up for the opening of the new playground
During his opening speech, town council chairman Matthew Harrison joked that he was aware the only thing between 200 excited youngsters and £200,000 of brand new play equipment was a small piece of ribbon.
Confetti and cheers of happiness filled the air as the playground opened, prompting a rush to be the first to the top of the new climbing frame, down the slide and onto the swings.
The new playground is a dynamic and inclusive play area suitable for a wider age group. It has a range of innovative and stimulating equipment for children of all ages and abilities, including an active climbing net, trampoline, rope bridge, sensory games panel, activity tables and new paved accessible pathways will provide connections to all areas.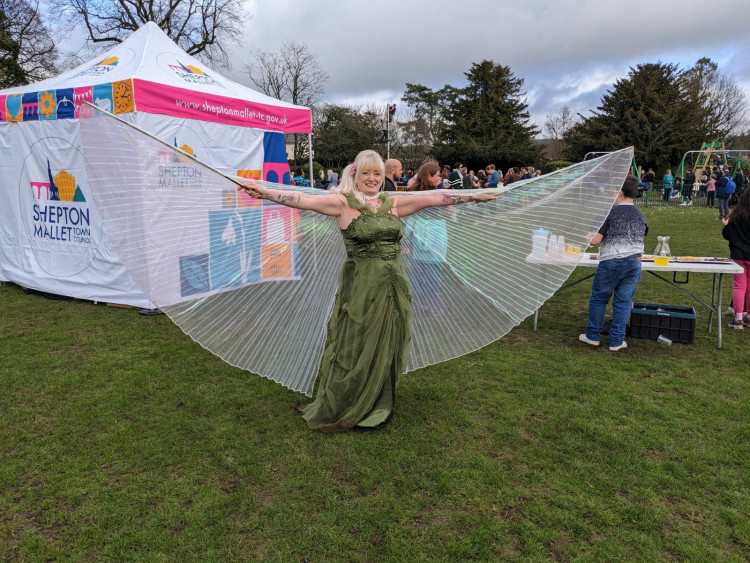 Shepton's fairy godmother was on hand to help out with the opening
Guests of honour included Shepton's very own fairy godmother - who was much in demand for photo ops - Shepton Mallet's Town Crier, who was on hand to help with the countdown for the grand opening and, of course, the children of the town.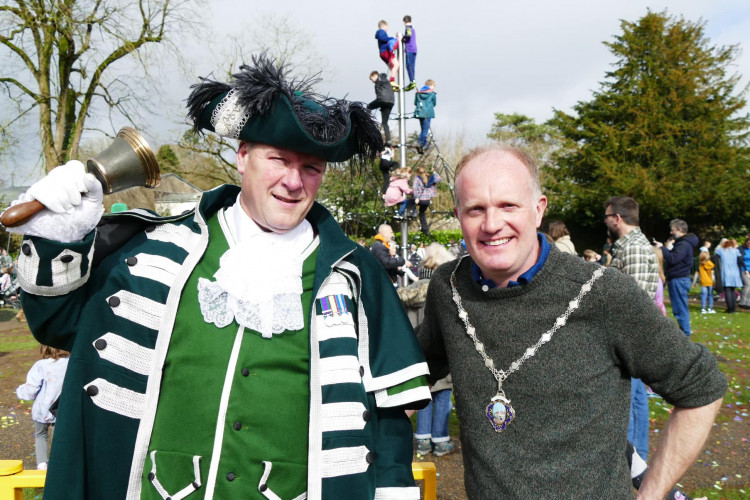 The town crier, and chair of Shepton Mallet Town Council. Credit: SMTC
Four-year-old Jessica was among those who waited impatiently to be one of the first on the new equipment.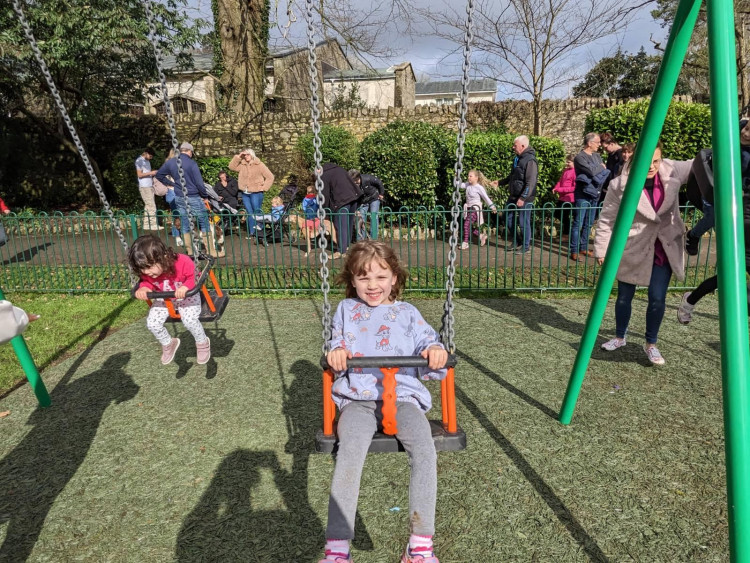 The swings were given the seal of approval from four-year-old Jessica
She said her favourite thing was 'the big, long swing. I played on it with some new big friends. Also there were two dogs and an ice-cream van.'. She also added that her least favourite part of the park was 'when we had to go.'
Prospective parliamentary candidate for the Lib Dems, Tessa Munt was also at the opening, getting stuck into the new sandpit.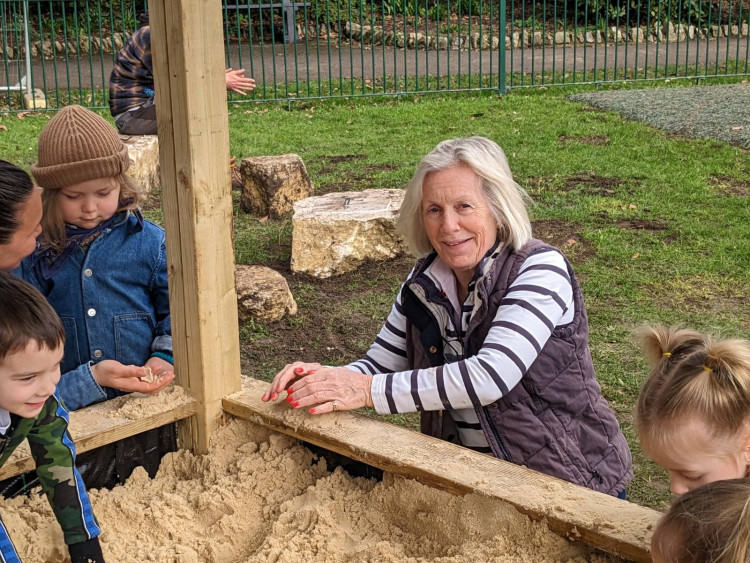 PPC Tessa Munt gets stuck into the new sandpit
She said the park was "just wonderful. Just what the the young people of Shepton needed. It's been a joy to be here today and share it with them."
Works started on January 9th, with Sutcliffe Play South West making the design a reality and it was Octoplay Ltd who installed the equipment.
Councillor Harrison said: "Thank you to everyone who came to Collett Park this morning to celebrate the opening of the new Playground. I think you'll agree, it's a great addition to the park and the town. Thanks so much to everyone involved in its design and implementation. This will be appreciated by people for generations to come!"