The Gleaning community art project exhbition launches next week, with a series of events as part of Somerset Art Weeks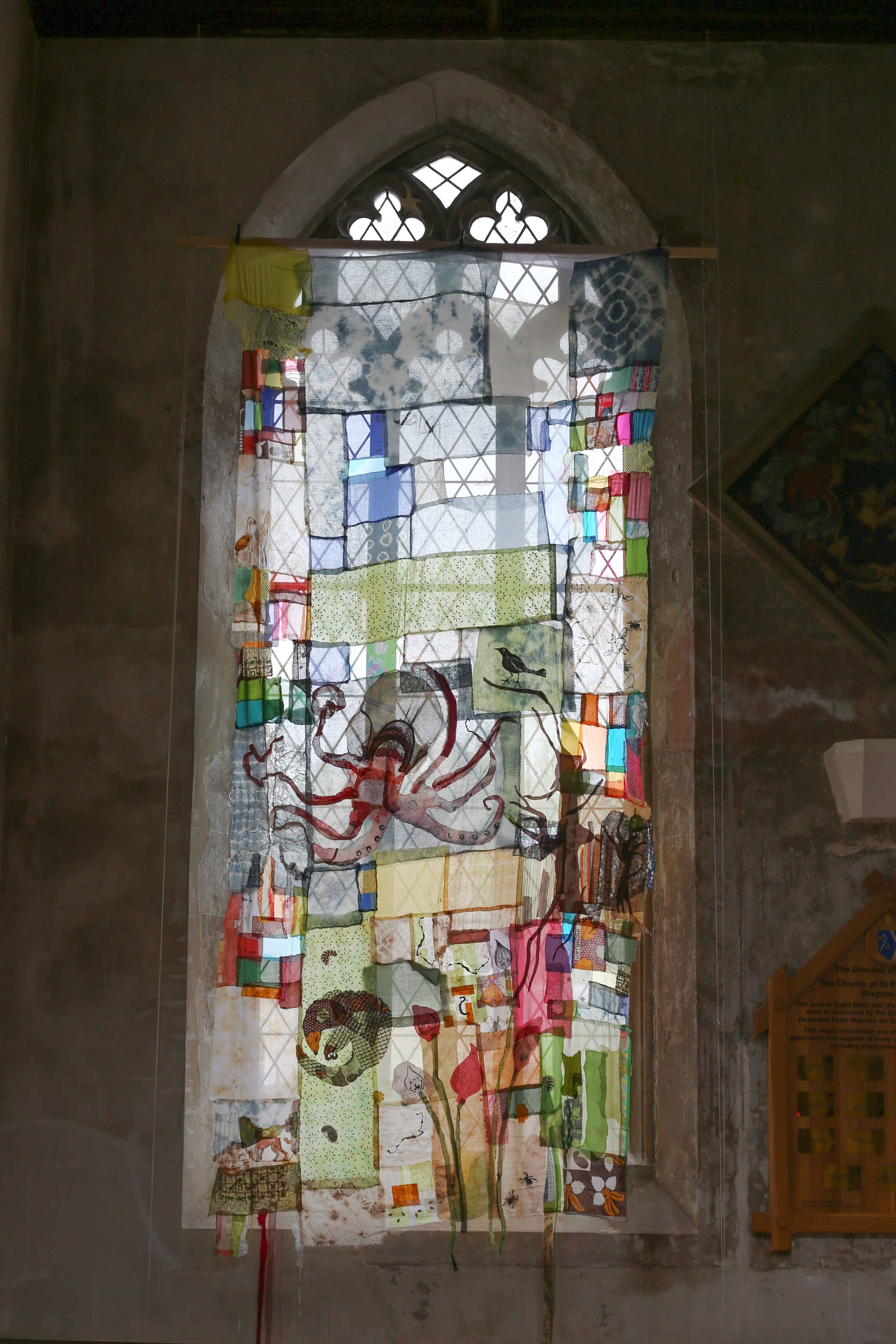 Earthlings. Photo Vaughan Ives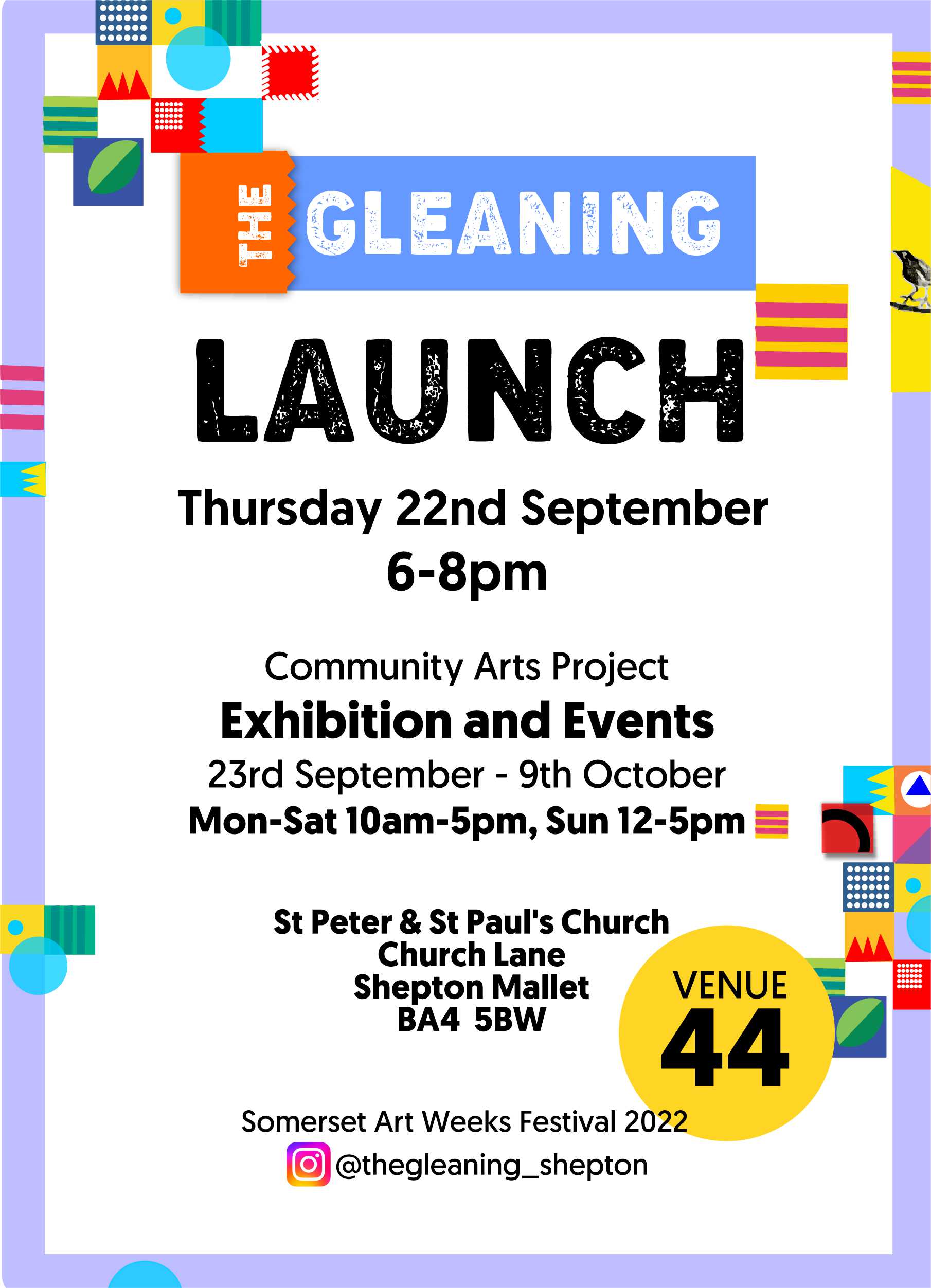 The Gleaning is a collaborative community arts project involving people from all walks of life around Shepton Mallet to join together in making elements for an exhibition with events. Co-curated by artists Gill Sakakini and Fiona Campbell, working closely with writer Polly Hall, they weave heritage with present lives.
Large-scale translucent textile and paper artworks will be suspended in front of 11 clear glass windows in Shepton Mallet's beautiful 12th century church. Created to represent light, looking beyond, raised vision, and different perspectives, each panel has a theme, interconnected visually and conceptually. Themes include Earthlings, War/Conflict, Calm/Peace, Gratitude, Ruth's Story, Shepton Mallet: the place, Care and Repair, Journeys, Generosity. Stories reflect different styles and cultures using found and recycled materials, all created with local community. Many processes have been explored including drawing, collage, home-made plant dyeing/tie dye, print, batik, stitching, found poetry.. on recycled fabric, plastic and paper remnants, using natural inks, and fusing artisan craftsmanship with contemporary art. The project reconnects the community with environmental concerns.
The Gleaning references the Biblical rule of leaving a portion of one's crop for the poorest to glean (Leviticus 19, v 9-10). The central thread of Harvest Festival celebrates plenty, gratitude, generosity, sharing, social cohesion, giving voice to the marginalised. The project addresses Somerset Art Works' theme 'Sanctuary', with its key strands of the Spiritual, Sustainable and Social. The exhibition is in St Peter and St Paul's Church, a spiritual venue, welcoming, safe, sacred. The oldest building in town, it has offered sanctuary to all comers throughout history.
A whole series of workshops this summer offered free creative opportunities for all, some linking with Gill's weekly Drawing On sessions in Collett Park. Art and Writing workshops took place in Sweet 11 Romanian Café, Shepton Mallet Church and town centre, Collett Park and at Fiona's garden/studio. Participants explored various forms of printing, appliqué, textiles collage, drawing, poetry and contemplative writing.
'Through the arts, we've opened up space for dialogue and growth. The workshops have been like building blocks, giving a sense of belonging through intergenerational art-making'. (Curators Gill and Fiona)
'Through informal notes, random conversations, acrostic poems, found poetry and contemplative writing the words for The Gleaning have been gathered.' (Writer Polly Hall)
The Gleaning collaborations culminate in a final exhibition as part of Somerset Art Weeks' Festival, supported by events including a jazz concert, and dramatic presentation of the Book of Ruth. The exhibition launches Thursday, September 22, 6-8pm, and is open daily from September 23 -9 October 9, Mon-Sat 10am-5pm, Sun 12-5pm.
For further information, visit www.gillsakakini.com/the-gleaning-shepton/instagram: @thegleaning_shepton
Dates: Launch Thurs 22nd September, 6-8pm, then open daily 23rd September to 9th October 2022
Address: St Peter & St Paul's Church, Church Lane, Shepton Mallet BA4 5BW
Times: Mon-Sat 10am-5pm, Sun 12-5pm
Admission: Free (except Jazz Concert)
Contact Details: Tel: (Fiona) 07515 537224/Email: [email protected]/(Gill) 07969 158488 [email protected]
EVENTS
at St Peter & St Paul's, Shepton Mallet, BA4 5BW (unless indicated)
Thurs 22nd Sept, 6-8pm, Launch of The Gleaning as part of Somerset Art Weeks Festival (23rd Sept-9th Oct)
Mon 26th Sept, 5-5.30pm, Gleaning Vespers (music, silence, word and image)
Tues 27th Sept, 10am-12pm, "Drawing On" - workshop exploring The Gleaning textiles
Weds 28th Sept, 11am-12pm, Artists' Talk - Fiona & Gill speak about the work
Thurs 29th Sept, 5-5.30pm, Gleaning Vespers (music, silence, word and image)
Fri 30th Sept, 10.30am, Market Cross, Shepton Mallet: "Encounter Ruth"
Sat 1st Oct, 10am-12pm, "Care and Repair" - all-age workshop exploring care & repair
Sat 1st Oct, 11am & 3pm, Market Cross, Shepton Mallet: "Encounter Ruth"
Sat 1st Oct, 8-9pm, Jazz Concert by 'East of Meon': Latino vocal and instrumental jazz responding to harvest themes in The Gleaning exhibition. Tickets £5 on Eventbrite
Tues 4th Oct, 5-5.30pm, Gleaning Vespers (music, silence, word and image)
Weds 5th Oct, 3.30-5pm, "After School Art" - create a themed piece from Gleaning fragments
Thurs 6th Oct, 5-5.30pm, Gleaning Vespers (music, silence, word and image)
All events (except Jazz Concert) are FREE
For further details and to book, please see The Gleaning www.gillsakakini.com