Bob Dylan Night at the Art Bank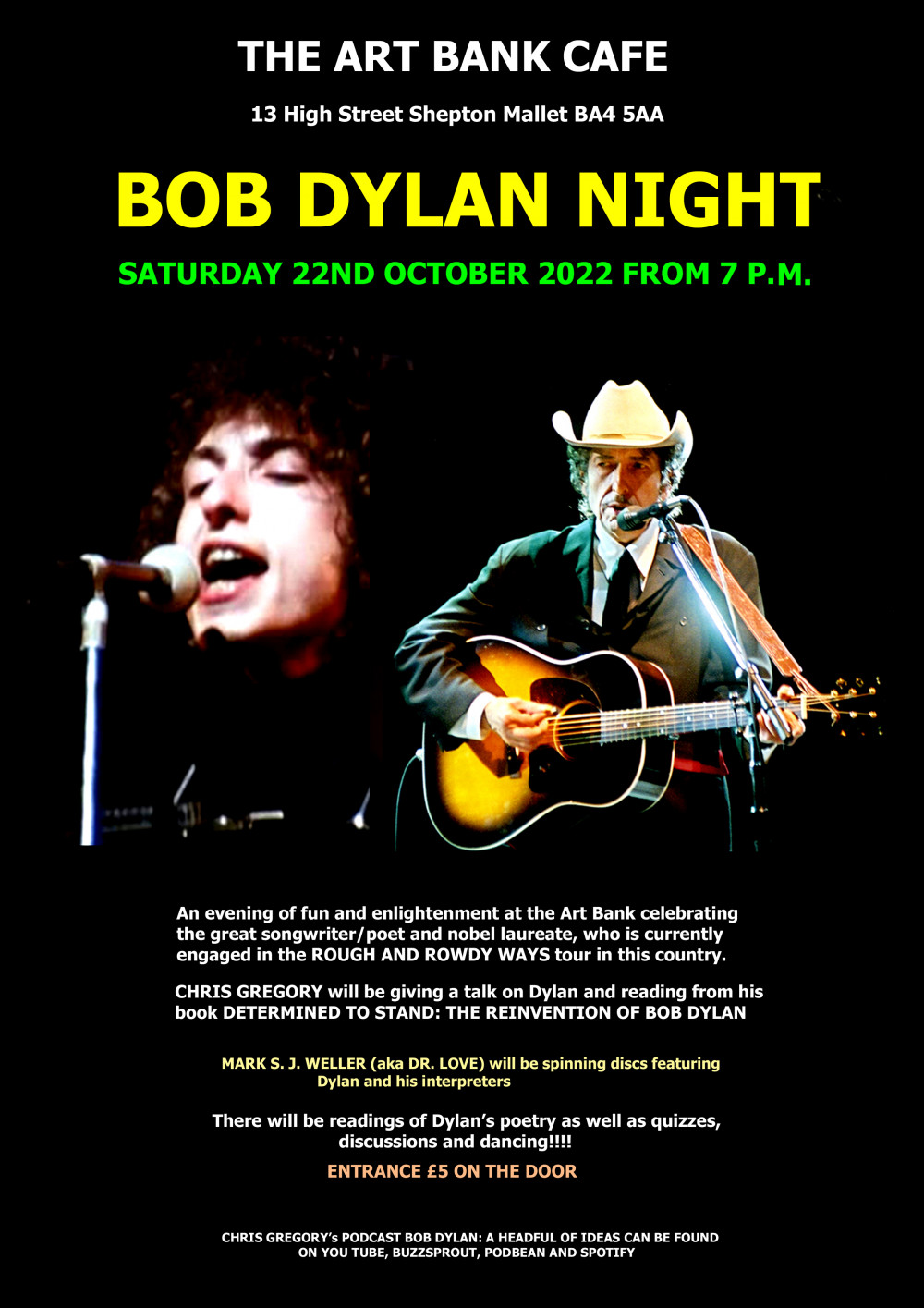 BOB DYLAN NIGHT AT THE ART BANK
Bob Dylan has been called the most important and influential figure in the history of rock and roll. Over the course a career now spanning six decades, his music has gone through many twists and turns, exploring folk, blues, rock, country, gospel, Americana and many other styles. He has also found international acclaim as a literary figure, having won the Nobel Prize for Literature in 2016. At present he is engaged in the ROUGH AND ROWDY WAYS tour, showcasing the songs from his brilliant and highly acclaimed recent album - and playing very few of his 'greatest hits'.
On Saturday, October 22, The Art Bank (13 High Street Shepton Mallet BA4 5AA) will present a Bob Dylan Night in celebration of this great artist. Chris Gregory will be reading extracts from his recent book Determined To Stand: The Reinvention Of Bob Dylan and performing some of Bob Dylan's rarely heard poems. Mark S J Weller (also known as 'Doctor Love', a well known local DJ), will be playing well known (and some less well known) music by Dylan and his interpreters. There will also be a quiz, dancing (!!) and much fun to be had! Personally signed copies of Chris' book will be available. Entrance is just £5.
Chris Gregory is a performing poet, novelist and author of a number of books on popular culture including 'Be Seeing You: Decoding The Prisoner' (1996), 'Star Trek: Parallel Narratives' (1999) and 'Who Could Ask For More: Reclaiming The Beatles' (2008). He is now engaging in a number of book talks in order to present his work to the reading and listening public. He presents the material in a lively way which engages with the audience and never fails to recognise the humour in Dylan's songs. Determined To Stand: The Reinvention Of Bob Dylan is a detailed study of Dylan's latter day work, focusing on how, following the release of 1997's 'Time Out of Mind', he has 'reinvented' his art an explored many new methods of song writing. Chris examines how Dylan's contemporary work constitutes a kind of postmodern reworking of many of the classic themes and lyrical and musical tropes of the folk and blues traditions, as well as incorporating a vast number of literary influences. The book also focuses on his work as a painter and sculptor, a film maker, a writer of prose and a radio show host. It addresses the controversy surrounding the 2016 award of the Nobel Prize for Literature and examines the nature of Dylan's unique 'sound poetry' as well as his latter day fascination with the pre rock and roll 'sentimental' tradition. Much prominence is also given to the live performances in Dylan's 'Never Ending Tour' (1988 to the present), in which Dylan - with his restless commitment to spontaneous creativity - has continually developed, renewed and revamped his compositions, in what can be called a 'spiritual quest' for the 'perfect' version of each song.
A selection of Chris' work can be found on his website. His podcast Bob Dylan: A Headful of Ideas can be found on Spotify, You Tube, Buzzsprout, Podbean and many other sites. Determined to Stand is also available through Amazon. It has also been produced as an e-book and an audio book.